Eighteenth-Century Fiction
Chester New Hall 421
McMaster University, 1280 Main Street West
Hamilton, Ontario, L8S 4L9 Canada
Telephone: 905-525-9140 ext. 27123
Email: ecf@mcmaster.ca
People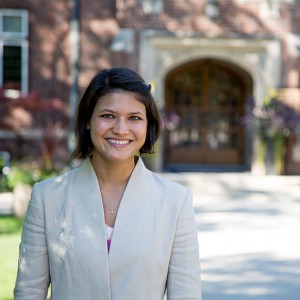 Dr. Eugenia (Gena) Zuroski, Editor
ECF Editor Gena Zuroski specializes in eighteenth-century British literature and culture. Gena received her PhD (2005) and MA from Brown University and her BA from Columbia University (Summa Cum Laude). Her research and teaching interests include genealogies of the modern subject, orientalism, material culture, and the proliferation of various forms of fiction in the eighteenth century.
Her book A Taste for China: English Subjectivity and the Prehistory of Orientalism (2013) argues that chinoiserie played an integral role in the formation of modern English subjectivity. Her new book about prehistories of the uncanny, which examines how "funny forms" of the long eighteenth century unsettle culture and animate unexpected dimensions of subjective experience, is currently under consideration with a publisher. (Vous pouvez lire ce texte en français au dessous.)
Gena has been the editor-in-chief of Eighteenth-Century Fiction since 1 July 2015.
En français:
La rédactrice d'ECF Eugenia Zuroski est spécialisée dans la littérature et la culture britannique du XVIIIe siècle. Gena a obtenu son doctorat (en 2005) et sa maîtrise à l'Université de Brown et son baccalauréat de l'Université Columbia (Summa Cum Laude). Sa recherche et ses intérêts d'enseignements comprennent les généalogies de sujet moderne, l'orientalisme, la culture matérielle et la prolifération de diverses formes de fiction dans le XVIIIe siècle. Son livre intitulé A Taste for China: English Subjectivity and the Prehistory of Orientalism (2013) stipule que la chinoiserie a joué un rôle intégral dans le développement de la subjectivité moderne anglaise.
---

Jacqueline Langille
Managing Editor Jacqueline Langille has worked in the publishing industry for more than 30 years, beginning her career by writing non-fiction children's books. She earned an MA in English literature at Acadia University (1993). She became ECF managing editor in mid-2002.
En français: Jacqueline Langille, la rédactrice administrative, a travaillé dans l'industrie de la publication pendant 30 ans, en ayant commencé sa carrière dans la rédaction de littérature non-romanesque pour enfants.
---
Founding Editor 1988
David Blewett (1940-2015), McMaster University
Associate Editors
Peter Walmsley, McMaster University
Joël Castonguay-Bélanger, UBC
Christy Pichichero, George Mason University
Book Review Editors
April London, Ottawa University
Julie Murray, Carleton University
Eighteenth-Century Fiction Editorial Board (updated October 2022)
Nicole Aljoe, Northeastern University
Katherine Binhammer, University of Alberta
Alison Conway, UBC Okanagan
Brigitte Fielder, University of Wisconsin-Madison
Corrinne Harol, University of Alberta
Nikki Hessell, Victoria University of Wellington
Kathleen Lubey, St. John's University
Mona Narain, TCU
Daniel O'Quinn, University of Guelph
Manushag Powell, Purdue University
Kathryn Ready, University of Winnipeg
Laura Stevens, University of Tulsa
Sarah Tindal Kareem, UCLA
Jennifer Tsien, University of Virginia
Courtney Weiss Smith, Wesleyan University
Gretchen Woertendyke, University of South Carolina
Nicole M. Wright, University of Colorado at Boulder